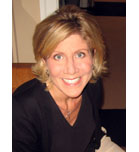 Ann-Cabell Baum: Bringing New Life to Downtown Raleigh
By Lalaena Gonzalez-Figueroa – Broker Agent Magazine writer 2006, edited
When it comes to real estate in Downtown Raleigh, there is a definitive market expert: Ann-Cabell Baum. With over 11 years' experience in real estate development, marketing and sales, she has been a part of the region's amazing transformation into a thriving hub of culture, entertainment, commerce and now, residential living. Despite her success and recognition, Cabell maintains her focus on the area and its amenities.
"The quality of life here is just awesome," she enthuses as she delves into a conversation about the area she so proudly represents. "We have over 100 restaurants, plus a great balance of shopping, culture, parks and night life. It's stylish but not too trendy, with a quality of life that reflects our residents' simple and comfortable style; it's healthy and family friendly, with an air of sophistication, and it's energetic without being over the top. Raleigh is also a unique city because of its combination of urban living and natural surroundings. I've heard time and again from visitors how 'green' the city is."
A Journey of Determination
While she's readily associated with Downtown Raleigh's real estate market today, Cabell's success follows a dedicated journey marked by hard work and a continuous pursuit of knowledge. After graduating from NC State in 1989, she was surprised to find that she couldn't land a position with a marketing firm as easily as she had expected. So Cabell entered the workforce in a significantly less glamorous fashion, holding four part-time jobs including nanny, bartender and retail sales clerk while also working administrative positions with a local temp agency. It was through that agency that she first came into contact with Roland Gammon, a builder who had expanded into the development business within the city.
Cabell started working in a general administrative position at Gammon's company, White Oak Properties, and soon realized that there was great potential in the real estate industry. She moved to a full time position and began to manage one of the firm's apartment buildings, a 31-unit development that had never been fully leased. "I made that my goal," she recalls. And Cabell made it happen. Intrigued with the business, she earned her real estate license less than two years after joining White Oak Properties with the initial intent of representing real estate transactions for herself and her family.
Her hands-on learning was intensified in 1994 when Gammon began a new project, converting a downtown warehouse into an apartment building known as The Cotton Mill. "The condo craze was gaining momentum in other metropolitan areas, and we decided to see if we could presell our condominiums," she recalls. Built in 1995, The Cotton Mill was open to residents in early 1996.
While Gammon had hired a REALTOR® as his in-house sales representative, Cabell found the opportunity to practice her own skills as a sales associate when buyers came in without their own representation. Though she had no previous field experience, she stepped up to the challenge and found that, with the help of Gammon's agent Jewell Parker, she was able to successfully navigate the early learning curve. "I really gained a lot of knowledge from Jewell," says Cabell. "She served as my mentor and never treated me like a competitor."
She proudly purchased a unit within Cotton Mill, noting that she was honored to be a part of the landmark development. "There had never been anything like that in the Downtown area," she says. "People were so excited about these multifamily projects with the cool, eclectic style."
Her successful work with The Cotton Mill led to Cabell's move to listing agent for Gammon's next projects, Martin Place and Governor's Square. During this time, she was also assisting friends and family members with their real estate transactions. Her enthusiasm and dedication to the business enabled Cabell to gain a rare perspective on the real estate industry.
"Working with a development company, I learned everything from how to review floor plans, to how to collaborate with contractors and take care of finishing details, to how to coordinate the work of electricians and plumbers," she says. Despite her acumen and growing business, Cabell chose to stay on with Gammon as a salaried employee rather than branch off into her own business. "There's a lot to be said for how real estate looks from the outside, and how it looks on the inside," she says. "I wasn't financially prepared to open my own firm, and I still enjoyed working with the Gammons." So she negotiated a raise and the flexibility to begin working with the general public outside of her work hours as a REALTOR®, and continued to grow her industry knowledge as she simultaneously grew her business.
Soon Cabell was representing resales within Cotton Mill, and saw her business continue to grow as she earned listings and worked with buyers. She maintained contact with Jewell, who continued to share her expertise and ideas with Cabell, and enrolled in real estate classes in order to further her knowledge. She even tapped into the minds of agents who called White Oak Properties, asking specific questions in order to increase her understanding of the industry.
In all, Cabell spent 16 years with Gammon, and graciously comments that she had the opportunity to "learn so much" from the developer who gave her a start in real estate.
A New Beginning
After representing seven developments during her time with White Oak Properties, Cabell finally found herself in a position to make a move. In 2003, while still working full time for Gammon, she was approached by the developer of Dawson Condominiums, who asked Cabell to serve as their listing and marketing agent in charge of reservations, presales and selections. With Gammon's consent, she undertook the position, and gained an even deeper understanding of the development process.
By 2005 she realized that the time had come to take the next step in her career. Cabell earned her broker's license and opened Glenwood Agency Real Estate, whose office was located less than two blocks from the building that she had called work (and a second home) for so many years. She has embraced her new role as broker/owner, although her efforts are still concentrated on her role as a REALTOR®.
Though she describes the transition to business owner as "one of the scariest things I've done," Cabell has quickly found her niche and has even found a way to maintain a professional relationship with her former employer and his "outstanding developments." She recently brought in nearly 70 buyers to Gammon's latest development, Palladium Plaza, and looks forward to representing transactions at Site 1, which is slated for completion in 2009. Cabell's marketing expertise has been tapped by Gammon, who utilized her skills when he competed with local developers to win a bid for future residential development on five parcels owned by the City of Raleigh.
Passionate About her Product
"I want to continue to represent Downtown transactions, as well as work with my clients' real estate needs within the Beltline," says Cabell, who has found a new niche in helping customers move from their urban condominiums to more traditional family homes. With 250 condo units currently on the market and an additional 650 forecasted for development, she can count on a steady stream of business as the recognized leader in the condominium market. Cabell sees a great opportunity in aligning herself with developers, who can benefit from the systems she has developed through years of experience.
"I have the process down, from reservations and presales, to selections, contracts and walk-throughs," she says. "Development is a long process, and I know how to coordinate the parts effectively and efficiently." She enjoys the process of seeing a project transition from planning to building and finally, to seeing it filled with residents. She also takes pleasure in the opportunity to work with a variety of personalities, from clients to builders. "I have met some great people as a REALTOR®," she says, "and I love the fact that you never know who you will meet next."
Ultimately, though, it is Raleigh that Cabell loves best about her work, and the opportunity to showcase a region that offers a diverse array of amenities to area residents whom she describes as "educated and intelligent."
"We have created a beautiful and exciting place to live, and I am so proud to help others enjoy the best that Raleigh has to offer!"
Email: cabelldtr@glenwoodagency.com
Office: 919.828.0077
Fax: 919.828.0099